Home
Everyone Has Time To Help Or Volunteer, We Just Don't Make Time For It.
Be a Volunteer
If you are interested to volunteer for a "metrology for all" program you can email us with your CV including a brief paragraph detailing: Specific information on courses or training you have delivered, or other activities you have organized, and what topics, activities or courses you are interested in delivering.
---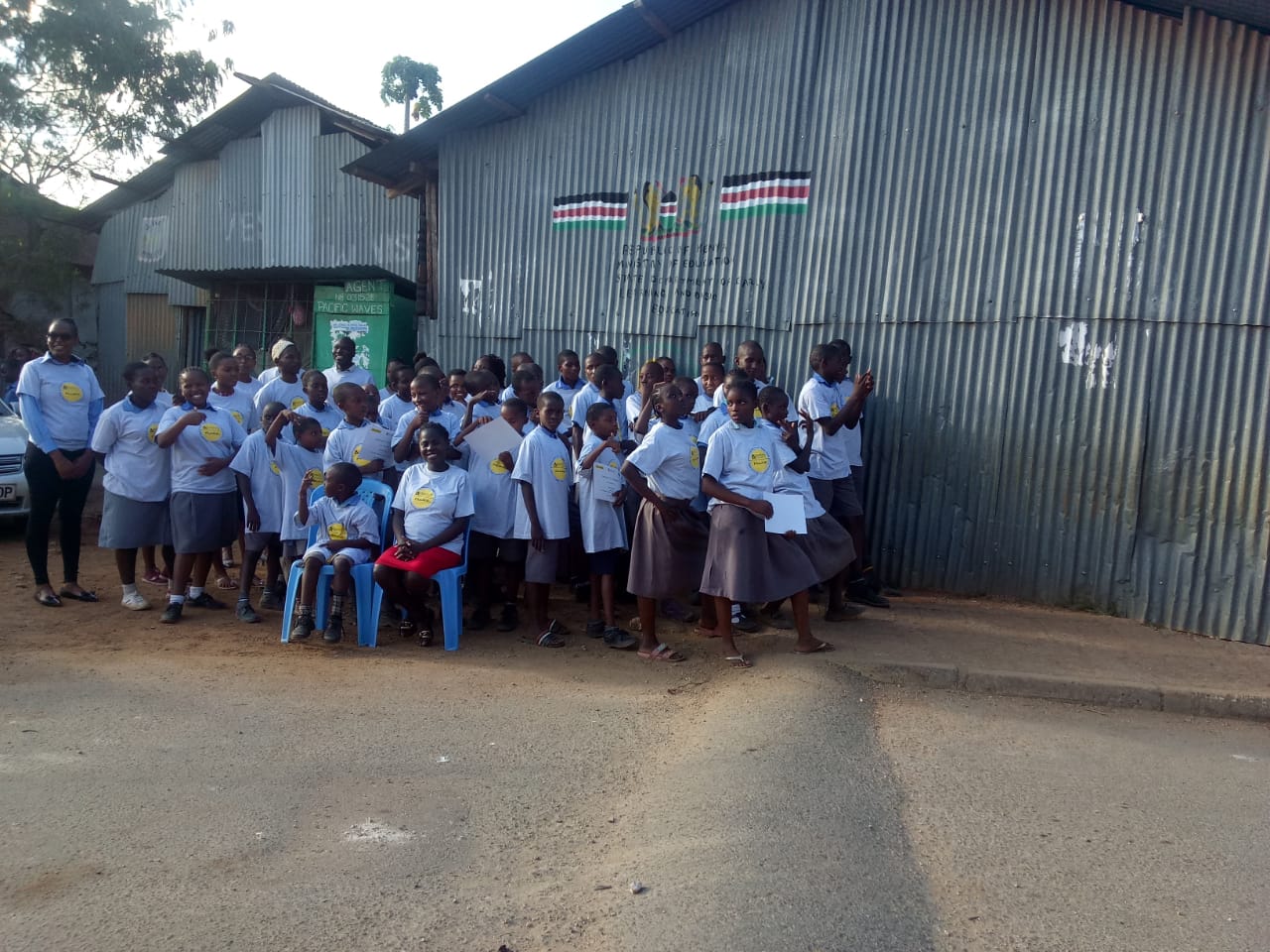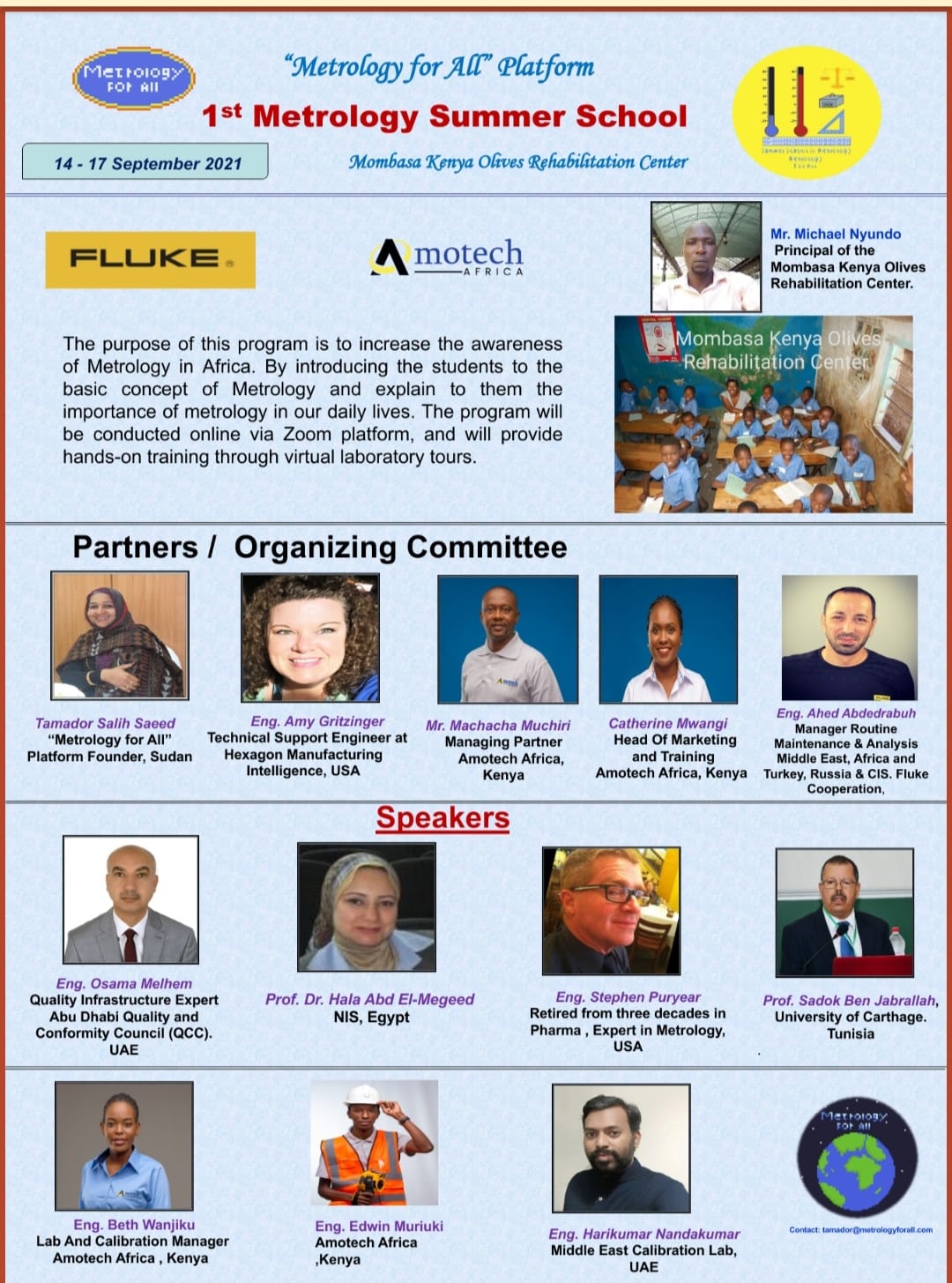 For more details kindly visit these links:
---
Stay tuned for 1st Metrology Summer School
Mombasa Kenya September 2021
#firstsummerschoolinafrica #metrologyforall #fluke #Amotech #africa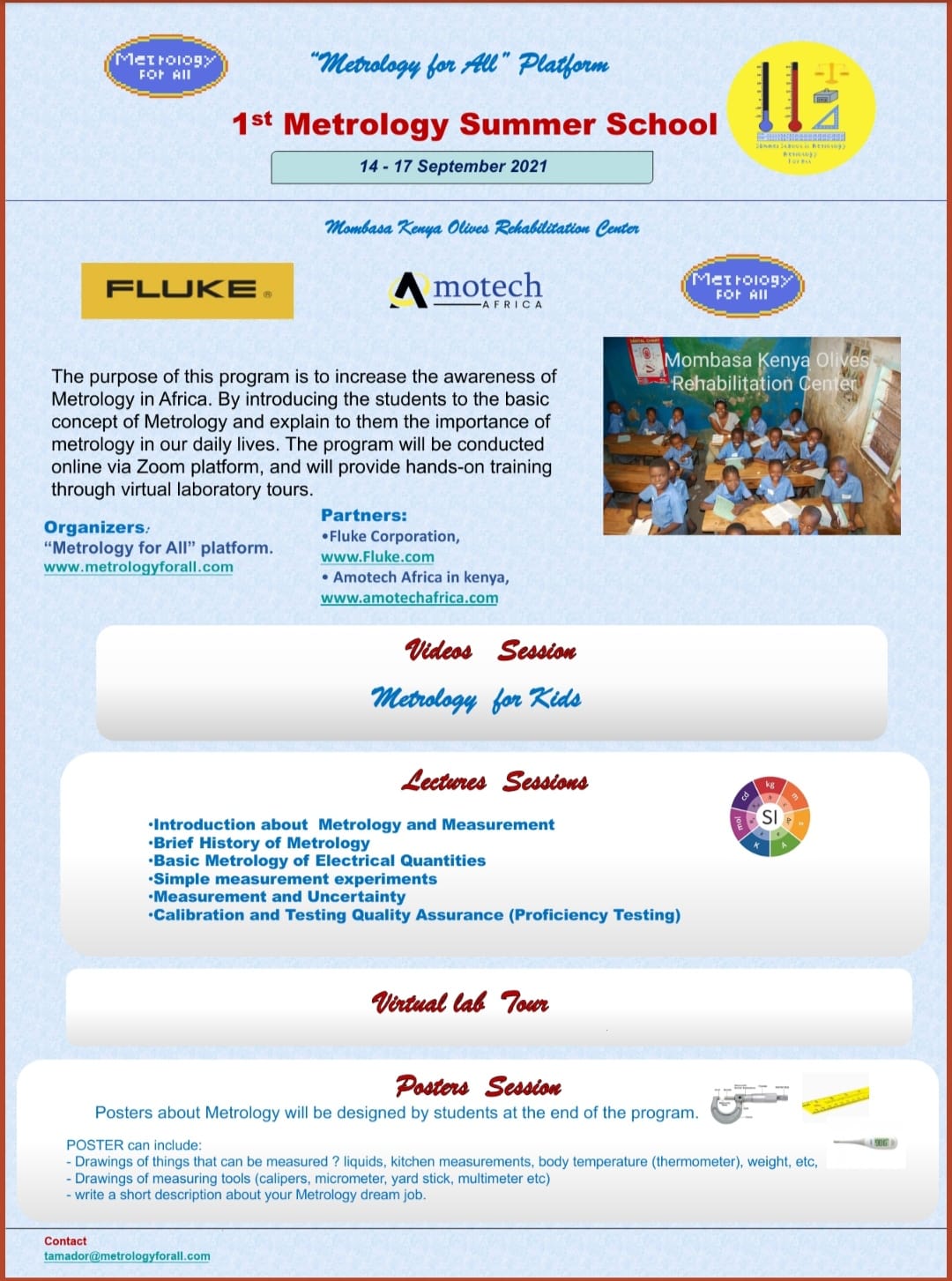 ---
Metrology for All Mombasa Kenya
First Online Summer School on Basic Metrology in Africa September 2021
Organizers: "Metrology for All" Platform
PARTNERS:
Fluke Corporation
Amotech Africa
#firstsummershoolinAfrica #metrologyforall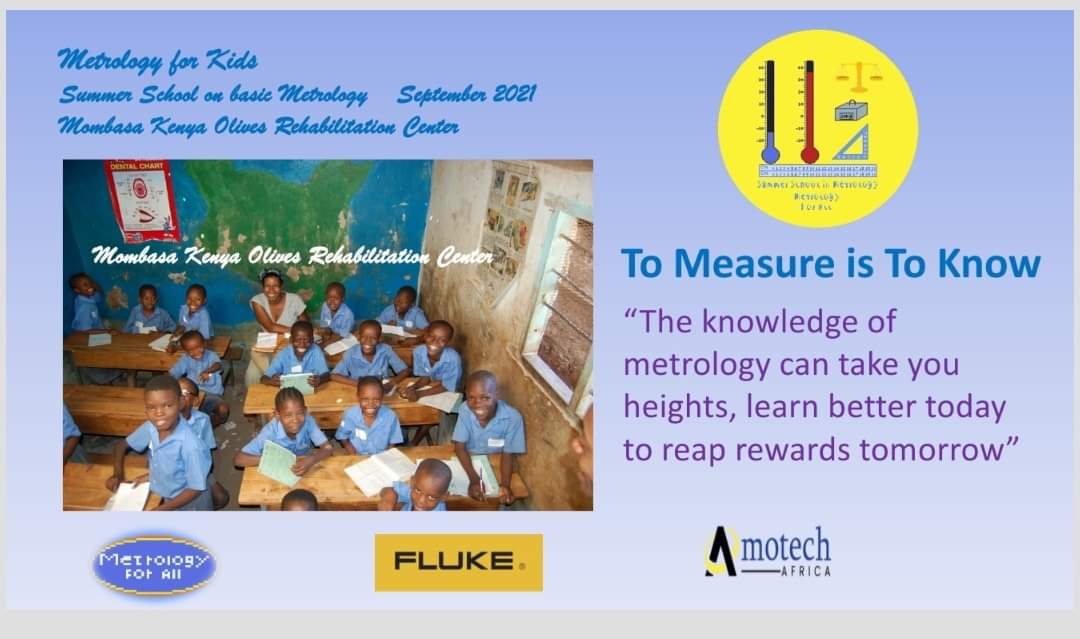 ---
Coming soon
We are pleased to organize the online "Summer School on Basic Metrology " in Kenya, that suits one of the main goals of the "Metrology for All" platform in increasing the awareness of Metrology in Africa.
The purpose of this program is to introduce the students the basic concept of Metrology and explain to them the importance of metrology in our daily lives. The program will be conducted online via Zoom platform, and will provide hands-on training through virtual laboratory tours.
Organizers: "Metrology for All" platform
Partners:
The Fluke Corporation, www.Fluke.com
Amotech Africa in kenya, www.amotechafrica.com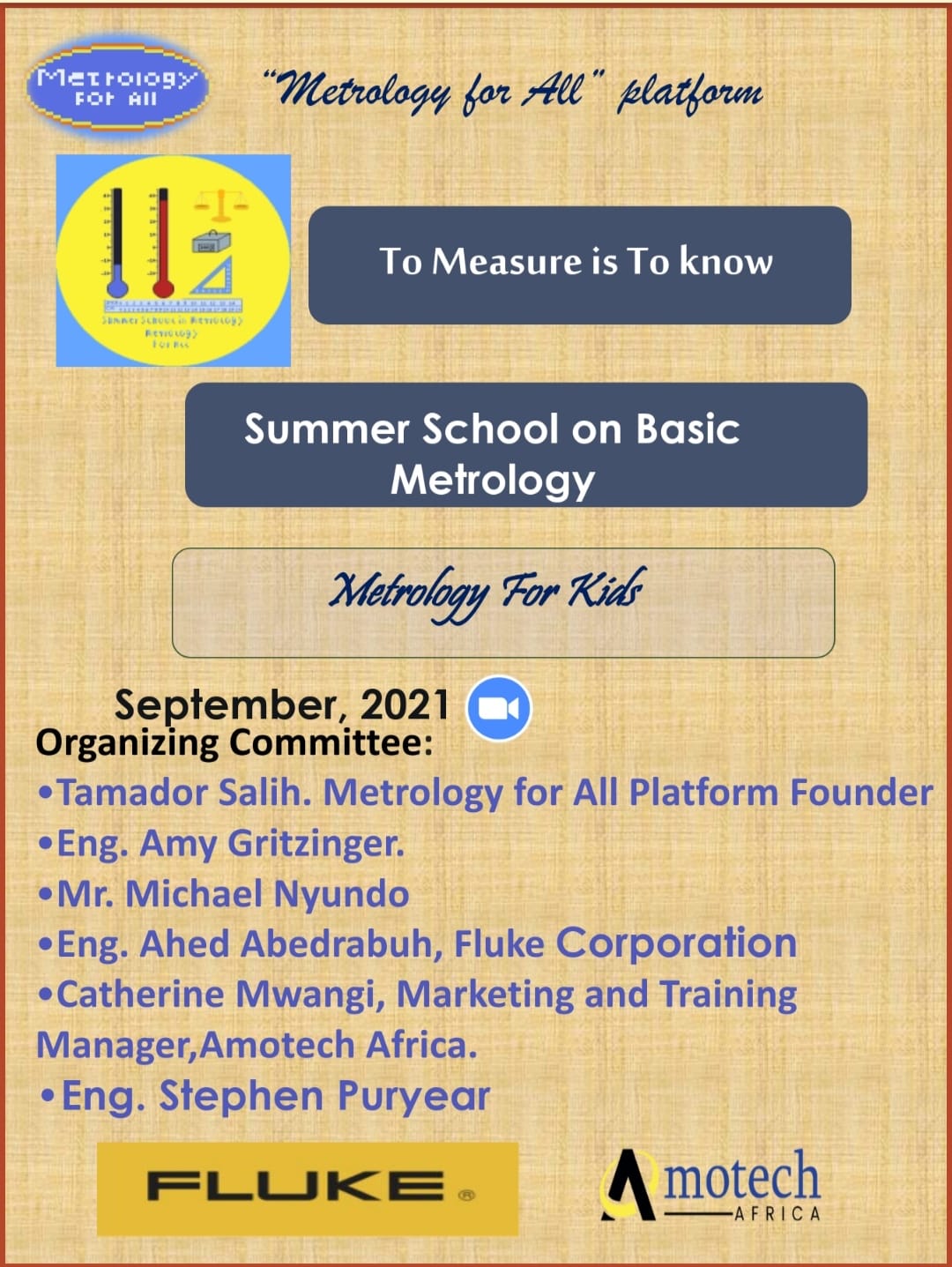 ---
Join us on Thursday 15 July 2021 at 10:30 AM - 12:00 PM (GMT+3)
"Importance and Traceability of Chemical Measurements"
By: Prof. Dr. Adel Bassuoni El-Sayed Shehata
- Professor of Polymer Chemistry and Reference Materials
https://us02web.zoom.us/j/84849077589?pwd=OVZOdmt1SVdTZ2FObWJSMTc4WlZtZz09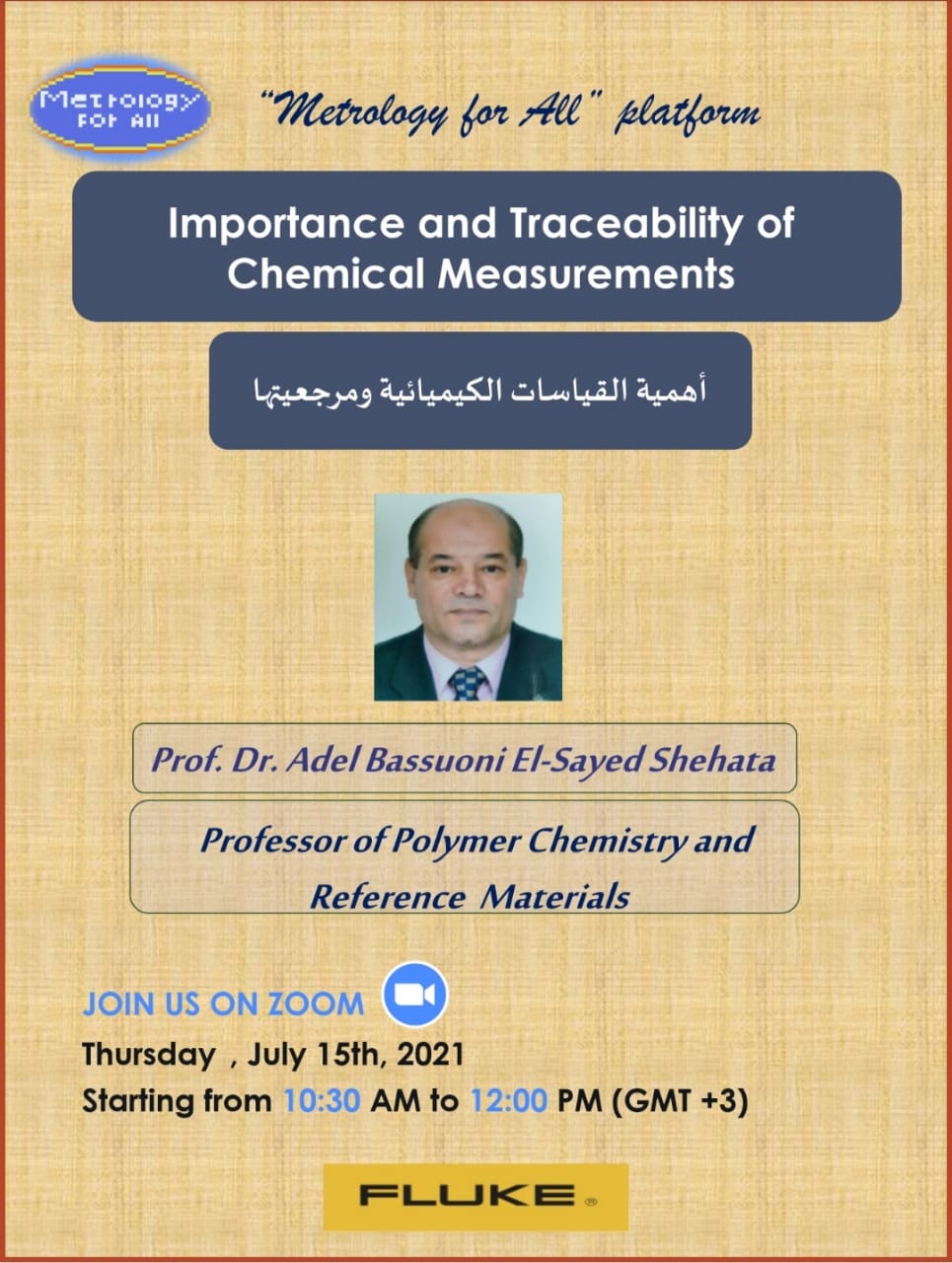 ---
Join us with Maram Ali Musa
"Introduction to Research Methods"
June 15, 2021 from 12:00 ??? 2:00 PM (GMT+2)
https://us02web.zoom.us/meeting/register/tZMud-isrjgiGdYAIP3Xx021i1k8-9Qz64CZ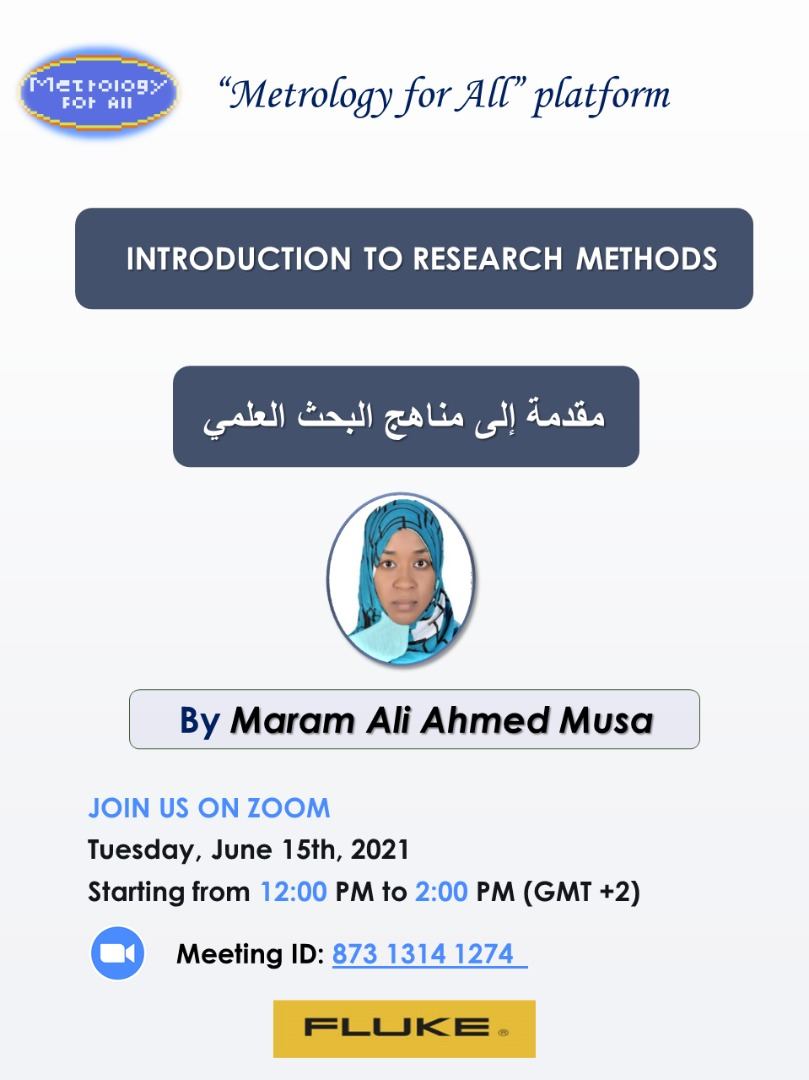 ---
Join us with Prof. Hala Abd El-Megeed
"High Voltage Metrology: Past, Present and Future"
June 14, 2021 from 11:00 ??? 12:30 PM (GMT+2)
https://us02web.zoom.us/meeting/register/tZMuduqpqjooHdDl21SVfpKZPVxALhqwCvCO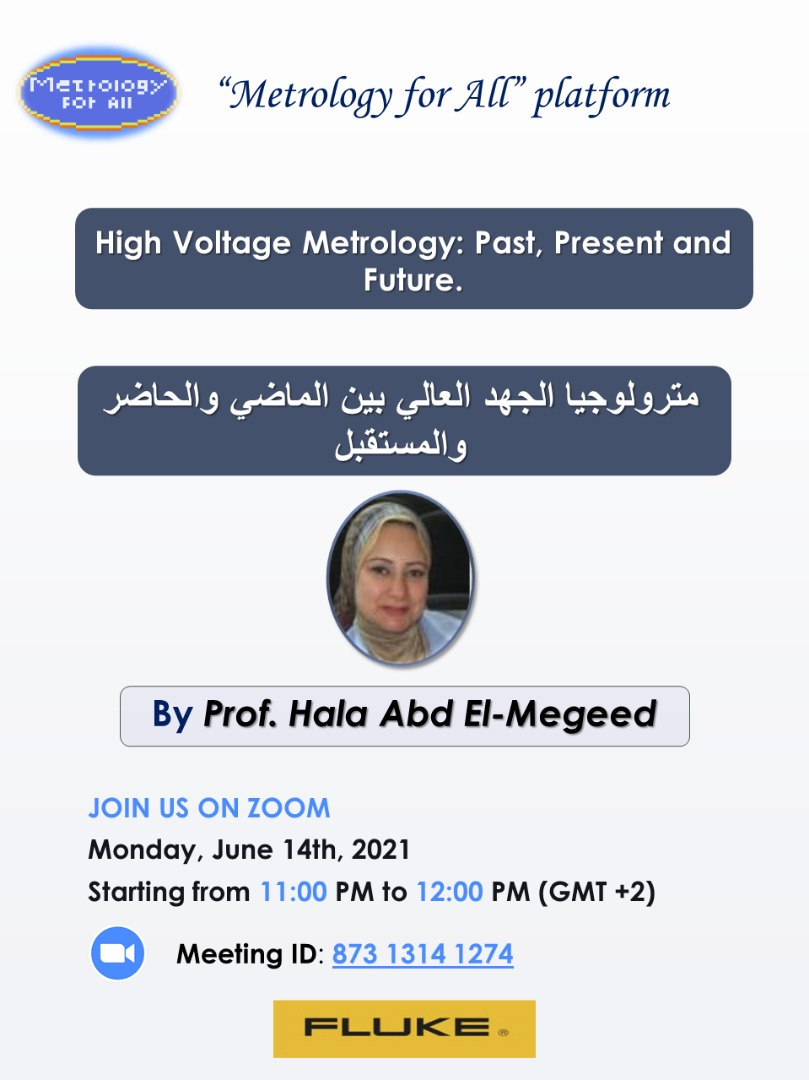 ---
World Metrology Day 2021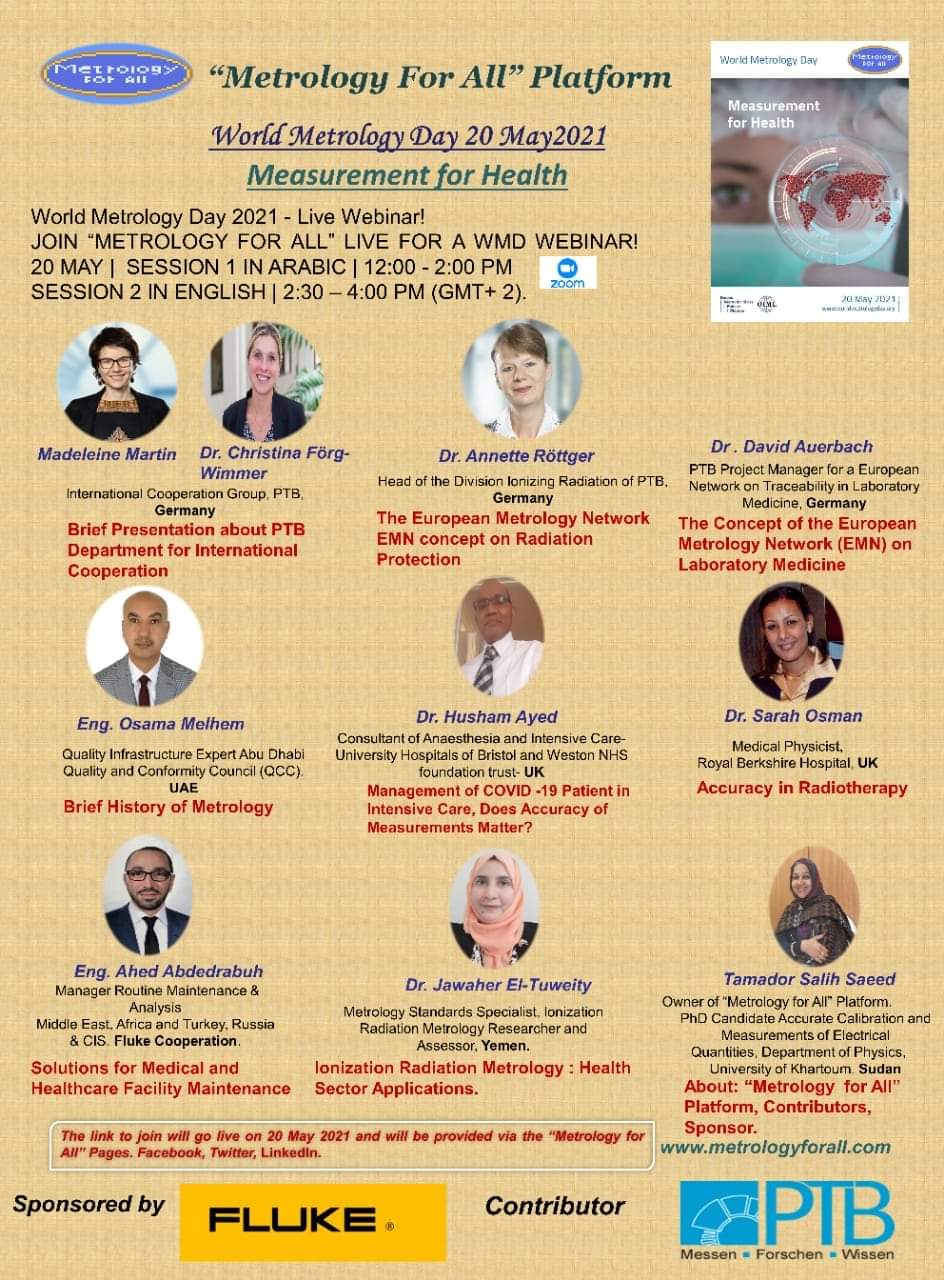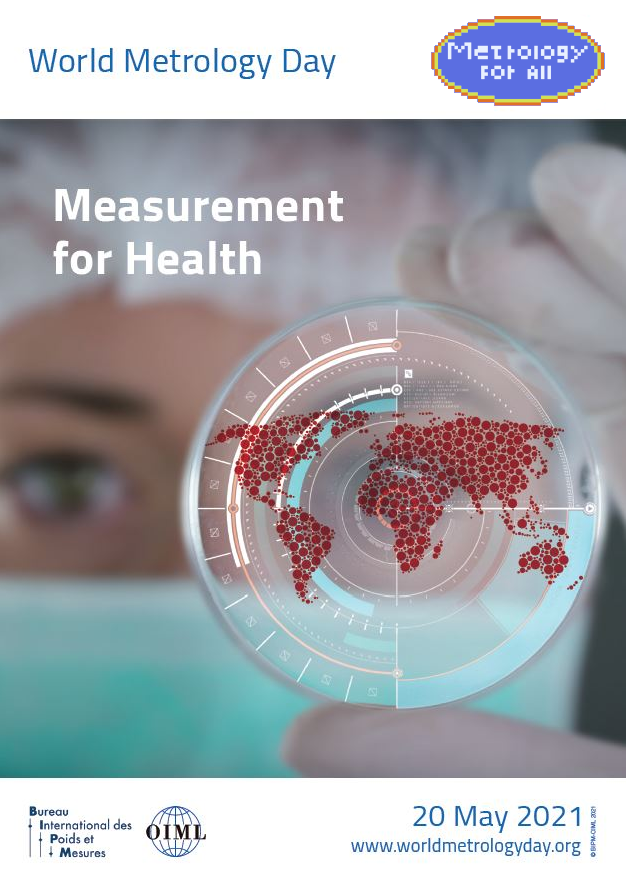 The theme for World Metrology Day 2021 is Measurement for Health. This theme was chosen to create awareness of the important role measurement plays in health, and thus in the wellbeing of every one of us. Indeed more widely metrology, the science of measurement, plays a central role in scientific discovery and innovation, industrial manufacturing and international trade, in improving the quality of life and in protecting the global environment. World Metrology Day is an annual celebration of the signature of the Metre Convention on 20 May 1875 by representatives of seventeen nations. The Convention set the framework for global collaboration in the science of measurement and in its industrial, commercial and societal applications. The original aim of the Metre Convention - the world-wide uniformity of measurement - remains as important today as it was in 1875.
World Metrology Day 2021 Program:
On the event of the World metrology Day 20 May 2021, the "Metrology for All" platform arranged wonderful programs. The volunteers' team will participate with several activities.
World Metrology Day 2021 - Live Webinar!
JOIN Metrology For All LIVE FOR A WMD WEBINAR! 20 MAY!
Session 1 in Arabic | 12:00 - 2:00 PM
Sessuin 2 in English | 2:30 - 4:00 PM (GMT +2).
https://www.worldmetrologyday.org/
---
Women in Metrology
On the occasion of International Women's Day 8 March 2021 "Metrology for All" organized an event to select a number of women working in the field of metrology in Arab Region, with the purpose of honoring them and encouraging others to enter this field.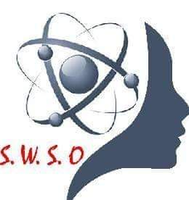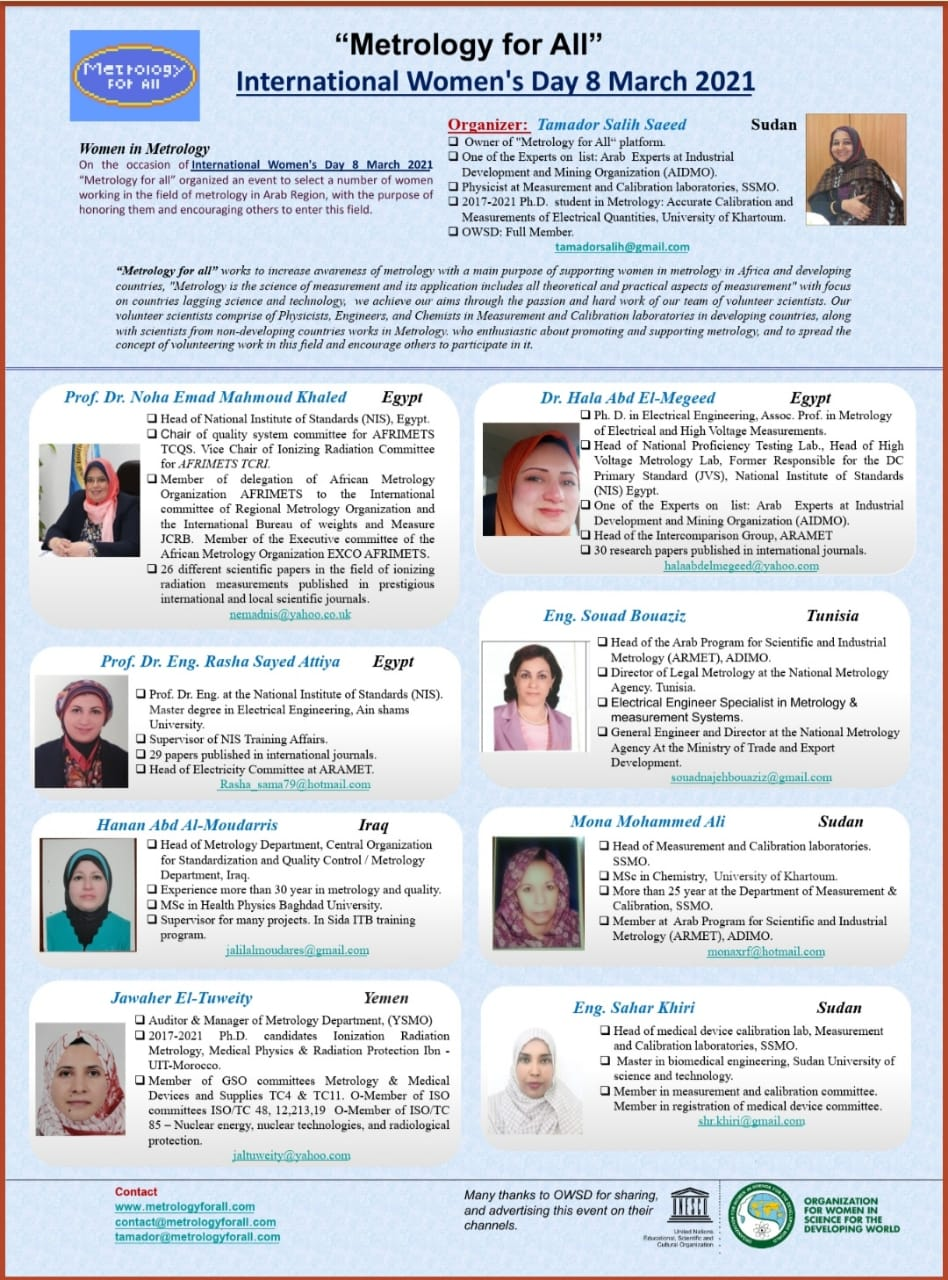 Click here for the pdf version
Links
Sponsored by: